Click here to listen to the interview with Nancy Cassidy (time = 41:22)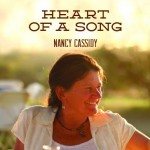 This episode's a return visit with one of my favorite people, and one of my favorite interviews, as we chat with Nancy Cassidy about "Heart of a Song," her eighth release of original music. She's known for both her KidSongs records as well as her folk/Americana recordings. Podcast-wise, we first got together and chatted about her "Song of Joy" and "Memphis" releases back in "Songs and Stories episode 25″.
For this get-together, I made a road trip to Idaho, chatting with Nancy at her home in Stanley, Idaho. She explained how her new record, "Heart of a Song," was more pop oriented and a direct result of her recent work performing in rest homes and for Bread and Roses events.
In this episode, we'll hear the CD cuts "Cowboy" (which was written in Stanley) and "Come Home to Me", as well as a live version of "Whole Bunch of Love," a tune she talks about in this interview, and one that came was born out of one quick phrase in a phone conversation – many songs start this way.
Have comments on this episode?
I'd love to hear from you. Call and leave a message at (831) 288-2226, and I'll play your comments on-air during the next show.