Michael Gaither was raised on the Central California Coast and takes the "write what you know" idea to heart, crafting songs that showcase both the nostalgia of small-town life and the foibles of modern technology, always with plenty of humor in the mix. He turned to songwriting after a background in journalism and a slight brush with standup comedy. (
He sold jokes to Jay Leno
. A long time ago. Back when Jay Leno was still funny.)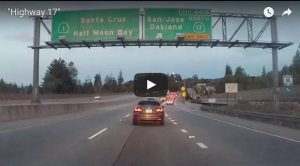 On "Hey Karma," his latest (and fifth) release, Michael juggles his favorite themes of nostalgia, sarcasm and gratitude, taking on topics ranging from angels, to the zombie apocalypse to the nonsense world of corporate speak. Musically this is a minimalist record focusing on the lyrics, but he manages to fit in guitars, banjos, mandolins, ukulele, pedal steel, harmonica and even accordion. "Hey Karma," released through Miracle Mile Records, is available at here Michael's website and on CD Baby and iTunes.
As an advocate for other artists, Michael ran a local open mic and booked and hosted a local concert series for several years, was a showcase emcee at the American River Music Festival (2007-2016), and still books/hosts the occasional house concert out of his Watsonville CA home.
Offstage, Michael produces/hosts the ten-years-running "Songs and Stories" podcast, which features stories behind his songs and interviews with other independent songwriters. You can listen to "Songs and Stories" here on the website site, in iTunes and Stitcher, and weekly on Grateful Dread Public Radio and KC Cafe Radio.
Michael plays both solo or with a band and is available for wineries, private events, house concerts and festivals. Want to book Michael? Have an available date? Send Michael an email or call (831) 288-2226.