Podcast: Play in new window | Download
Click here to listen to the interview with Cafe Musique (time = 47:58)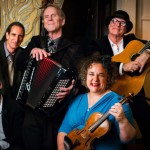 You really need to hear this band. Cafe Musique has a self described mix of "gypsy jazz tango swing and wild classical" continues to wow audiences just as much as it did when I first interviewed them back in episode #97 in 2006. We had the pleasure of booking them twice when we hosted our concert series, and we've kept in touch along the way. (Brynn Albanese, their rock star violin player, even played on two songs on my "Starlite Drive-In Saturday Night" record a few years back.) They have a totally unique sound – bouncing effortlessly between genres, with an occasional return to backing the songwriter in group – and the fun they have onstage (and even on record) easily flows to their audiences.
With a new record, "Ebb and Flow", AND a record label and a booking agent now attached to the outfit, I figured it was time to catch up, talk shop, and help show off a few tunes from their newest release. I recently chatted with Duane Inglish (accordion/banjo) and Craig Nuttycombe (guitar, vocals, and their songwriter guy) here at the kitchen table when the band was up from their San Luis Obiso homebase, readying themselves for a night at Kuumbwa Jazz Center in Santa Cruz CA.
You'll learn why they had such a blast making this record and how they hope to expand their reach with increased touring and the help of the
MesaBluemoon
recording label. This episode includes "Libertango", "Ebb and Flow," and "El Choclo" from the new record.
Have comments on this episode?
I'd love to hear from you. Call and leave a message at (831) 288-2226, and I'll play your comments on-air during the next show.