Podcast: Play in new window | Download
Click here to listen to episode #119 (time = 32:25)
Though he's based in Nashville, Antsy McClain of The Trailer Park Troubadours is no stranger to folks around here. He tours the west coast several times a year and always makes a run through our little burg. He recently did his fifth appearance at the Santa Cruz County Fair, and his annual New Year's Eve shows at the Rio Theater always sell out and are big fun parties full of happy "Flamingo-heads".
Antsy's also no stranger to the "Songs and Stories" podcast. He appeared way back in episode #51 and #52, then dropped by podcasting headquarters for a kitchen-table chat during episode #101.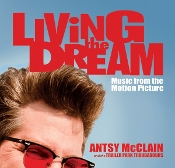 We recently got together backstage at the Rio Theater in Santa Cruz, CA and discussed his new record, "Living the Dream". Antsy affectionally describes this one as "songs written by a man who looked mortality in the face, saw his own reflection, and then took his friends out for ice cream". As in previous records, Antsy brings a lot of warmth, humor, and fun to a great collection of stories, then adds a few unexpected things. This time he's included a couple of rap songs – no kidding – and pulls them off effortlessly.
This episode includes clips of "We're All Gonna Die" and "Hanging with My Friends Again" off the new record, as well as some interviews with happy fans waiting in line before the show. (Okay, I was bored.) If you'd like to see (and hear more) from Antsy, his next run out here will be the big New Year's Eve show at the Rio Theater – that would most likely be on December 31st. Keep an eye out at unhitched.com for details.