Sometimes, a great song takes a great journey and just gets better.
I need to tell half this first story, then tell you another one, and then I'll come back to this: From 2007 to 2016, I was honored and privileged to host the Friday showcase at The American River Music Festival. (The festival ended its ten-year run last year.) Conceived and run under the generous and careful guidance of Matt Semonson, the ARMF was a mix of camping, music, workshops along with a celebration of moving water – the American River ran through each campground and next to the music main stage itself. We ended up camping near most of the showcase players, so music was shared and friendships were made and bonded. Hold that thought.
A couple of years back, my pal
John Cirillo
was out from Nashville. John spends his days co-writing. I said, "Let's block out an afternoon to write." So we did". We sat and each went through our "hook books" (notepads, iPhone text editors, etc.) searching for something brilliant – or at least an idea we could bang on for a few hours. I found a title, "Somewhere I Went Right". I couldn't even remember what made me write that down, but we worked. If you've never co-written, it's an interesting process. You each bring a different style, and when it meshes, it's magic. And you get a song that neither of you would have written on your own. We do have different styles: John sits and focuses. I tend to pace, bounce around, and occasionally get an idea, which makes me RUN back to the notepad or computer before it fizzles away.
We ended up with a sweet little love song. Started and finished in four hours. I started playing the song live. A straightforward, happy little tune that went over well. I knew it would go on the "Hey Karma" record, and I figured it would be a band song with female harmony, but I had no idea what we'd use for a lead instrument.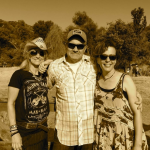 We now return to September 2016 and the final showcase at the ARMF: Last year's winners were Hannah Jane Kile, a dynamic singer/songwriter from Auburn CA, and The Sweet Potatoes, a really fun acoustic band from L.A. As the Sweet Potatoes were playing, the accordion player starting looking familiar. Then I remembered her name: Laura Hall. She was my email contact for the band as I was organizing the night. It rang a bell.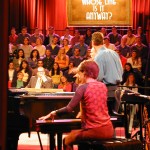 After they won, I asked, "Are you THE Laura Hall from TV's Whose Line Is It Anyway? She is. Her husband and harmony singer/bass player Rick is an actor – you might have seen him on Seinfeld. And their lead singer is Kelly McLeod, an L.A, songwriter who in a past life had records produced by Eddie Van Halen. A band of ringers. And they're some of the nicest folk you'll ever meet.
"Somewhere I Went Right" at the American River Music Festival
from
Michael Gaither
on
Vimeo
.
I was playing "Somewhere I Went Right" in camp the next night. They walked over, and Laura grabbed a melodica and had some fun with the song. The video above doesn't do it justice – it looks like she's playing a hookah, and I swear she's not – but you get the idea. Wheels started turning in my head. Laura and I kept in touch.
Cut to a few months later. We've recorded the song – acoustic guitar, bass, and drums – at Bear Creek Studios in Santa Cruz. Alysha Antonino drops by to add a wonderful harmony. Meanwhile, down south, in her North Hollywood home studio, Laura records the perfect accordion track and sends it up via the interwebs for us to drop into the final track.
I was thrilled to have Laura play on the song – which has already received airplay on KPIG and KVMR. And I'm looking forward to getting The Sweet Potatoes up to our place for a house concert, hopefully sooner than later.
"Somewhere I Went Right" is on the "Hey Karma" record, avail at here on the web site and in iTunes.
Side note: The studio track has an accordion AND a banjo. I only regret that I wasn't able to find room for bagpipes, too.