Podcast: Play in new window | Download
Click here to listen to the interview with Keith Greeninger (time = 53:00)
Local songwriter Keith Greeninger is no stranger to "Songs and Stories". He first appeared here way back in 2008 on episodes #27 and #28 when he released the "Glorious Peasant" record. In 2010, he and Dayan Kai sat around my kitchen table, talked about, and played songs from their collaboration, "Make It Rain" in episodes #85 and #86. He's back with a new record, "Soul Connection".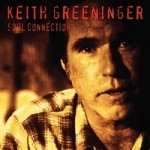 It was a big project. Keith's *other* big project is the actual space where "Soul Connection" was recorded. In the time leading up to this new project, he's been writing, playing, as well as producing music from lots of other artists. Much of that recent recording has been done at Wind River Studios, a studio he's developed in the upstairs open-air room at a goregeous home in the Santa Cruz Mountains.
(I can attest to the great space. I recorded a few holiday tunes there last week, with Keith producing and DJ Higden manning the board and mixing three fun tunes I'll release next month. But I digress.)
For "Soul Connection", Keith assembled a dream team band AND brought in his local players we know and love so well. The record features "Hutch" Hutchinson and Ricky Fataar (of Bonnie Raitt's band), Bill Payne (Little Feat), and Randy Ray Mitchell (of the late Warren Zevon's band) as the core band. You'll also hear regular folks like Dayan, Steve Uccello, Art Alm, and Jimmy Norris.
This podcast is an evening chat with both Keith and DJ (and crickets serenading us) at the studio after a mixing session. The episode features clips of the songs "Face of Love" and "Love for Awhile" from the CD, as well as live, solo performances of "Good Day" and "Guadalupe's Eye". You can order "Soul Connection" at CDBaby.com.