Podcast: Play in new window | Download
Click here to listen to the interview with Gurf Morlix (time = 40:23)
Each "latest podcast" seems to be my favorite. This one is no exception. It's a long kitchen-table chat with Austin songwriter and producer Gurf Morlix. If you don't immediately recognize the name, you know him by the company he's kept: He was in Lucinda Williams' original band and produced her early records. He's recorded several albums with Robert Earl Keen. He produced Slaid Cleaves' last five records. Gurf also recorded a tribute to the late songwriter Blaze Foley a couple of years back. (Blaze was a close friend of Gurf's.)
I caught up with after a local show at Treasures Roadhouse in Watsonville, CA. We talked about his inventive use of the Knockbox pedals to give him a live percussion sound. Gurf reminisced about touring with Warren Zevon (a "genius" and a "real class act"), shared a wonderful anecdote about the late Jessie Winchester, and explained how becoming a producer was a simple matter, since he was "always the guy who ran the equipment".
Gurf moved to Austin back in the 1970s, in the era of the Cozmic Cowboys and bands like New Riders of the Purple Sage. Back then he was making $50 a night. (We both sadly chuckled when we realized that many musicians STILL make about $50 a night.) Ironically, Gurf releasing and promoting his own records is a relatively new thing.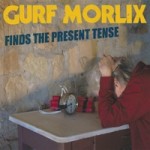 This podcast includes clips of "Bang Bang Bang" from the new record, "Gurf Morlix Finds the Present Tense" and "Voice of Midnight" from "Last Exit to Happyland". Gurf talks about both songs in the interview. We're also treated to a live version of Blaze Foley's "Clay Pigeons", which was covered by John Prine and included in Gurf's record "Blaze Foley's 113 Wet Dream".
Feedback on the podcast: Are you a regular listener? I'd love to hear your comments on the show – either in the comments at the bottom of this post or by sending me an email. I'll send you a free MP3 as a thanks from me.