Podcast: Play in new window | Download
Oh man, this episode could NOT have a more appropriate title. Rhan Wilson and I have been trying to get together for an on-the-record chat for longer than I care to put in print. So here we are…"All In Good Time," which not coincidentally is also the title of his new book. It's less a music instruction publication and more a series of essays to motivate folks who have never played, thought they couldn't play, or have been TOLD they can't play. It's a great project, and you can just go ahead and order it right now from Rhan's web site.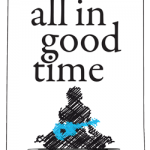 I first heard of Rhan when he was doing his "Altared Christmas" shows in Santa Cruz. There were sort of a remedy to traditional holiday concerts, as he assembled a group of players and performed Christmas songs…all in minor keys. Initially conceived as an album, it became an eight-year-running annual event. This interview starts with a discussion of the "Altared…" shows, which prompts a great discussion of music "projects" (one-offs, leading to one event) contrasting with a typical "band" (a group of players that you regularly gig with). I don't think that particular topic has been covered in this podcast. Good stuff.
That segues to – because this podcast is nothing if not a series of fun tangents – the idea of how you market yourself:
What does it mean to change your name?
How might a poster kick off the idea for a show?
Planning a show is much more than just posting an event on FaceBook.
And how do you figure out what to call your band?
We'll also learn about *his* latest band, Jazz the Dog (made up of local favorites Rick Zeek, Patty Maxine, and Michael Westendorp), circle back to our original discussion about "All In Good Time," and then close with Rhan doing an altered take on a very well-known John Fogerty song. (It's way cool.)
Rhan's one of our finest local musicians/composers/arrangers. He's also a music teacher, and it shows in this rare, in-depth discussion with him. It's an intentionally long interview, and we cover a lot. Hope you get a chance to listen.
Have comments on this episode?
I'd love to hear from you. Call and leave a message at (831) 288-2226, and I'll play your comments on-air during the next show.