Podcast: Play in new window | Download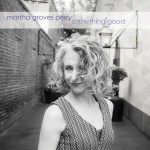 So just how *does* a classically trained cello and pianist end evolve into fronting her own band, singing her own songs, and doing a big release party for her new EP, "Something Good" THIS SATURDAY, NOVEMBER 12TH, at The Art Boutiki in San Jose? Listen to this interview with songwriter Martha Groves Perry, and you'll quickly find out.
I first heard Martha years ago when she was singing harmony with Bev Barnett and Greg Newlon, mutual good pals of ours. She's played with symphonies, toured in support of other musicians, but somewhere along the way she got the bug, got out in front, and started writing her own material.
These days most of her songs come as dreams. In this interview you'll learn how it's not THAT unusual for writers to wake up in the middle of the night and sprint for the iPhone or notepad…before those lyric snippets trail away. (Honestly, it was kind of reassuring to learn I'm not the only one.) You'll hear two songwriters open up about how it really is sort of a strange endeavor, writing songs and performing them. And you'll find out what it took for Martha to take that next step, get her songs into a studio, and set up the big release party this Saturday. (Get your tickets here, and read more about Martha in this recent piece from the San Jose Mercury News.
Have comments on this episode?
I'd love to hear from you. Call and leave a message at (831) 288-2226, and I'll play your comments on-air during the next show.