Podcast: Play in new window | Download
Click here to listen to the interview with Michelle Chappel (time = 1:01:15)
Lots of people have left a full-time day job to pursue their music careers. But having a PhD in psychology and leaving a professorship to play and record music? Maybe not so much. Michelle Chappel was raised in Atlanta, educated at Princeton, and through different teaching opportunities, found her way to UCSC several years ago. She played music as a child, then dropped it to go after her education. Michelle rediscovered it while teaching back east, began recording, teaching less, and started touring, receiving international airplay and awards.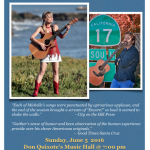 She's just released her eighth CD, "Call Me Crazy" (an intentionally tongue-in-cheek title for a psychologist) and is celebrating it with a release party at Don Quixote's Music Hall in Felton on Sunday, June 5th at 7:00pm. This latest record shows her country side, with a mix of upbeat, funny, and inspiring tunes – which is pretty much where Michelle sits. She's invited me to open the night with a 45-min set. (I'll be playing lots of new material I'm honing for my next record.)
Because UCSC was so good to her – she was voted "Most Inspirational Professor" and was allowed the freedom to do music while pulling back her teaching hours – we've decided to give 20% of our proceeds from the Don Quixote's show to KZSC radio.
Speaking of radio, Michelle and I are both doing several on-air appearances to promote the show. Tune in locally or listen in on the web:
In this episode, you'll hear the studio tracks "Down This Road Before" and "Don't Take It Personally" from the new record. Michelle also plays a new song, "Your Own Happy Ending". Tickets for the Don Quixote's show on June 5th are $10 in advance and $12 at the door. You can make reservations at donquixotesmusic.com.
Have comments on this episode?
I'd love to hear from you. Call and leave a message at (831) 288-2226, and I'll play your comments on-air during the next show.