Podcast: Play in new window | Download
Click here to listen to the Robert Berry interview (time = 56:59)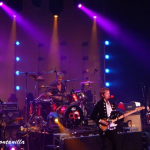 "Big. Fun. Loud. Insanely creative." That's all I could keep saying after watching this season's debut concert of the December People. The brainchild of producer/musician Robert Berry, the December People do an annual Vulcan Mind Meld of classic rock riffs with holiday and Christmas songs. Think "Silver Bells" done to Tom Petty's "Running Down a Dream" or "Up On the Rooftop" and "Feliz Navidad" backed by a Santana Medley.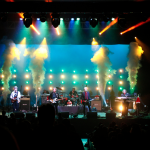 Robert Berry pulls together a band of serious rock and roll dudes to pull this off, including guitar slinger Gary Pihl (Sammy Hagar, Boston), David Medd on keyboards (The Tubes), David Lauser on drums (Sammy Hagar) and international solo singer/guitarist Jack Foster. Berry is also a serious musical chameleon in his own right. He was 1/3 the trio "3" with Keith Emerson and Carl Palmer, he played with Ambrosia, and he's produced records for hundreds of artists at his Soundtek Studios in Campbell CA.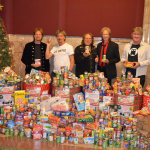 I actually met Robert Berry a couple of years (decades, actually) ago on "First Friday", an internal corporate TV show for Tandem Computers. I was going to San Jose State and pulling cables behind cameras on the show. Berry was the musical director. For this interview, we met at Soundtek and went ALL the way back. We reminisced about First Friday, his corporate work, and many of the cool people he's worked with (which makes him one of the cool people, as well.) We also learn how he came from a musical family, why he never played Christmas music, and how that all changed when he got the idea for the "December People".
They've released four CDs, available at Amazon, CD Baby and on iTunes. Each of their shows also serves as a food drive for a local charity. Here in the bay area, you have two chances to see them this season: Thursday, December 10th at the Heritage Theater in Campbell and Saturday December 12 at the Firehouse Arts Center in Pleasanton. A few dates back east are listed on their Shows page.