Podcast: Play in new window | Download
Click here to listen to KPIG interview (time = 22:55)
For a switch, here's a chance to here *me* interviewed on the podcast. I just split a bill with the fabulous Amy Rigby at Don Quixote's Music Hall. To promote the gig, Laurie Roberts invited me and my pal John Begley to play on her Friday afternoon KPIG radio show.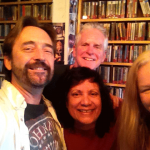 It's always a blast chatting with Laurie. John and I played my songs "Where'd the Time Go?" and "Hang It Up" live, and we heard "Cynically Yours" off Amy's CD, "The Sugar Tree". Here's the interview in its entirety. Always fun stopping by the pig, and always a blast yacking with Laurie and playing with John.
At the end of this episode, I list out what's up in the weeks ahead for "Songs and Stories":  A post-Don Q's interview with Amy herself. A Talk with local favorite Rhan Wilson about his upcoming ukelele book, "All In Good Time". And a visit with Robert Berry to hear about his annual December People shows, where he – and a kick-ass group of rock musicians – merge class rock songs with Christmas carols. Think "White Wedding" crossed with "White Christmas". Fun stuff.