Podcast: Play in new window | Download
Click to hear episode #108 (time = 24:05, size = 11.1 mb)
My favorite "Songs and Stories" episodes are always re-visits with folks who appeared on this show previously. Colin Gilmore was one of my first guests, back in 2007 when I hadn't even broken the 20-episode mark in with this thing yet. It was Colin's first California trek. He's been back several times since, and I caught with him recently after we played back-to-back nights at Evangeline's Cafe in Colfax. (I think we passed each other on the highway.)
We chatted in Felton CA at Don Quixote's Music Hall. We talked about the success of his newest record, "Goodnight Lane", where his recent travels have taken him, and how he's looking forward to getting back to the studio to record again. This episode includes clips of the title cut and "Circles Around the Yard" from the new record. Have a listen. It's great stuff.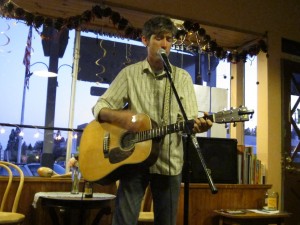 Colin Gilmore at an early Evangeline's Cafe appearance
If you're wondering (and don't already know), yes, Colin is the song of Texas songwriter Jimmy Dale Gilmore. You can hear all about that, as well as the Buddy Holly influence in this Lubbock, TX native's music, in episode #17 of "Songs and Stories".