Podcast: Play in new window | Download
Click to hear episode #105 (time = 43:41, size = 20.1 mb
Here's a switch: An interview at someone *else's* kitchen table. Taking "Songs and Stories" on the road – okay, it's just a ten minutes or so from my place – I chat with California songwriter (and Corralitos resident) Craig Rayburn about his decades making music, the 2008 solo release "Coyote", and The Rayburn Brothers Band featuring his brother Keith. We also discuss the overwhelming (in a good way) amount of influences that come into a songwriter's work.
This interview includes some spontaneous commentary from Leslie, Craig's wife. She's definitely his biggest fan, and this talk at *their* kitchen table with the kids close at hand and the Corralitos creek roaring outside gives a good insight into this talented songwriter's work.
Upcoming Show: Craig joins Sharon Allen and me at the Corralitos Cultural Center on Sunday, April 17th for the next in-the-round that I'm having so much fun hosting. Show starts at 6:00 pm. Complete details and reservation info are on my Shows page.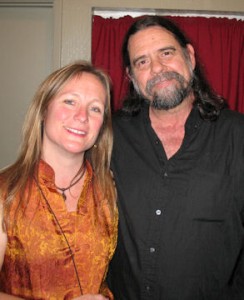 Leslie and Craig Rayburn