Podcast: Play in new window | Download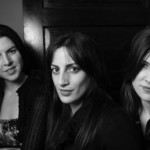 As their signature song "One Voice" says, "This is the sound of voices three / Singing together in harmony". Harmony is a big part of the Wailin' Jennys, but it doesn't stop there. The (mostly) Canadian folk trio is made up of three equally talented songwriters and multi-instrumentalists: Ruth Moody (guitar, banjo, accordion, bodhran) and Nicky Mehta (guitar, harmonica, ukulele, percussion) are the founding members of the group. The newest "Jenny", U.S.-born Heather Masse, joined them last year for the tour of "Firecracker", their latest release.
I chatted with them by the hiss and pale light of a lantern at Camp Mather during last Fall's Strawberry Music Festival in Yosemite. Why did we end up talking in the dark? Let's just say they're popular. You'll have to listen to episode #21 find out the rest.