Podcast: Play in new window | Download
Click here to listen to"Drive-Ins and Mountain Lions" (time = 20:33)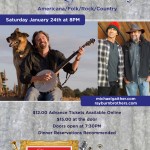 We're kicking off 2015 at "Songs and Stories" with a quick episode and a preview of upcoming projects – a show at Moss Landing's The Haute Enchilada on January 24, a Santa Cruz Valentine's Day house concert with my pal Steve Kritzer, and a wonderful hosting gig: Chuck Brodsky, one of my favorites, plays our local series on Friday, January 30. Details are on my Calendar page.
Music-wise, this episode goes a few months back to a fun, Friday morning appearance I made on KZSC's "Bushwacker's Breakfast". I was on air-to promote our the annual "Bow-Wowapalooza". Seabright Brewery helped sponsor this event, which raised over $1500 for the Santa Cruz County Animal Shelter. We're planning another one for this fall.
On the show, I played "Starlite Drive-In Saturday Night", and a newer song, "The Ghost of 17". This a true story of a mountain lion named Atlas, and is also a nod to UCSC's Puma Project research group.
A few new podcast interviews – and more shows – are in the works for this year. Tune in – okay, just click on the link above, since there's no real "tuning" involved – to hear the details.