Podcast: Play in new window | Download
Click here to listen to the interview with Jim Dyar (time = 29:31)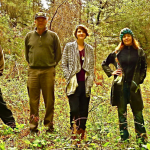 Sometimes is really does take a trip into the redwoods to land a podcast. And it's usually worth it. This episode's a long time coming…it's a visit with northern California pal Jim Dyar. We met years ago through mutually close friends at the Strawberry Music Festival and have also crossed paths at the American River Music Festival.
Every time we hang out, or gig together (it's happily happened a few times) or chat on the phone, we end up talking shop. Inevitably, one of us says, "hey, this would be a great podcast." Then we just keep playing or talking.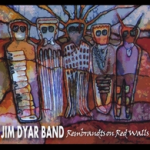 Earlier this year Jim released his third record, "Rembrandts on Red Walls". It's his second under the guise of The Jim Dyar Band. (He also released one CD with his Muletown String Band project.) This time I was determined. Appropriately enough, we met on a recent camping trip with most of those mutually good friends. This time, we took time to talk shop. With the recorder running.
Related Posts: