Podcast: Play in new window | Download
Click here to listen to the interview with Bourne Archer (time = 30:31)
Just think. If it weren't for El Azteca, Watsonville might have yet another taqueria*. Fortunately for Bourne Archer – and us – when Bourne was scouting restaurant locations and found himself at the historical Five Mile House property outside of Watsonville CA, there wasn't room for another eating establishment. We instead ended up with "Treasures Roadhouse", the newest music venue in south Santa Cruz County.
In this new podcast, we learn how, on a whim, Bourne walked into one of the vacant buildings that had been a stove place and Curves in previous incarnations. Bourne realized he was looking at a theater in the making. This was early Spring of 2013. Bourne (who's also a singer) enlisted the help of local musicians Rhan Wilson and Rick Zeek. A stage was built. Sound was wired. Tim Prince of Ridgetop Sound came in and treated the room. Treasures Roadhouse did a soft launch last fall and officially opened late last year. It's now seriously one of the finest music rooms in the county – whether you're a player or an audience member.
Treasures is catching on as a stopover gig for touring musicians: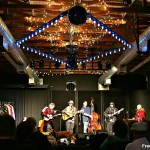 Austin's Gurf Morlix did a sold out show in April, and LA songsmith Brad Colerick returns on August 8th. It's fast becoming a hangout and venue of choice for many locals with its "Sunday Music Live" series showcasing local talent. The venue itself is also becoming popular as a facility for recording and practice sessions, private parties, and weekend music workshops.
This podcast includes a couple of live clips from Treasures shows: A cover of "The Old Country Church" from the Rhan Wilson and Friends production, "Hank Williams Reincarnated", and "Jubliee", an original from the duo Madrigal and Strange. Photos in this post are courtesy of Fred Arellano.
(And if you're updating your calendar a couple of months out, I'll be at Treasures on Saturday, September 27th, sharing the night with "Those Guys" (George Christos and John Begley) in a benefit for the Santa Cruz Animal Shelter.)
* Bourne wasn't really planning on opening a taqueria.
Related Post: A New Local "Treasure"