Podcast: Play in new window | Download
Click here to listen to the interview with Bev Barnett (time = 47:30)
So you're an artist. You have something to say. You need
people to know about it. You promote yourself online. How do you choose between the obvious: FaceBook, Twitter, Reverbnation, YouTube – and the not-so-obvious: Bandcamp, Soundcloud, Pinterest, Google+? (Seriously. Google+?) In this new podcast, Bev Barnett describes how to best use these social networking tools in a way that allows them to support what should be your primary online presence. (Ahem, that would be your web site).
Bev is a triple-plus threat on all things music. She's a fine singer and songwriter – she performs as a duo with her husband Greg Newlon. She has a long history of supporting other artists (through the TrueWind Concerts series and the new Woodshed.org music organization). And she's done promotional work for other artists. Through her new web site at heybev.com, she's now available to help other songwriters learn how to best navigate online waters of social networking, web sites, and email marketing.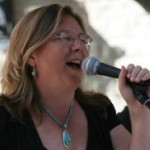 With her years in high-tech and corporate PR, advising artists on how to best represent themselves in the online world was a natural progress. It's also a nice bridge between Bev's admittedly "geeky" side and her huge community of fellow artists.
Learn more at her web site. And while you're there, perhaps while you're listening to this interview, take this survey on her site to let her know what specific types of social media interest you. You'll get a chance to win a free guitar-string bracelet, too.
Feedback on the podcast: Are you a regular listener? I'd love to hear your comments on the show – either in the comments at the bottom of this post or by sending me an email. I'll send you a free MP3 as a thanks from me.