Podcast: Play in new window | Download
Click here to listen to Wesley Robertson and Michael Gaither on KVMR (time = 33:22)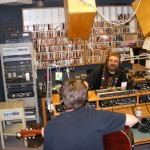 Whenever I play up in the lower Sierras, I have a standing offer to show up at Wesley Robertson's "Rockin' and Stompin" on KVMR radio. It's always fun and always appreciated. This "Songs and Stories" is one of those "me being interviewed for a change" episodes. It's a recent stop on Wesley's show.
I realized during this chat that he and I go back more than a few years now.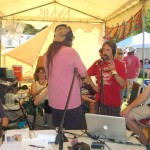 We met back when I finished my first CD, "Spotted Mule and Other Tales" (2006) through a mutual dear friend at The Strawberry Music Festival. We've been pals ever since, crossing paths both at the station and at more than one late night in various music festivals.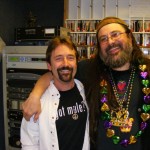 In this podcast, we reminisce about two very fun nights that I was lucky to capture as podcasts: A Strawberry Stroll through various camp jams, and a song circle at one of the first American River Music Festivals. (Check out the ARMF Facebook page for a teaser about who's coming to this year's fest in September.)
This episode also features live takes of – and some of the stories behind – my songs "Broke," "Starlite Drive-In Saturday Night", "Now It's a Taqueria", along with a cover of Warren Zevon's "Don't Let Us Get Sick".
Coming soon on "Songs and Stories": Interviews about the new releases from the likes of Jim Dyar, Amy Obenski, and Laura Zucker.