Podcast: Play in new window | Download
Click here to listen to the interview with Jayme Kelly Curtis and Richard Hoover (time = 37:57)
We're kicking off the first 2014 podcast with a series of field trips. For this first outing, we return to Santa Cruz Guitar Company (SCGC) – we went there last month to chat with Carolyn Sills and Gerard Egan. This time we meet with songwriter Jayme Kelly Curtis and SCGC founder Richard Hoover. We'll chat about the upcoming Santa Cruz County Art of Guitar Exhibit and Festival, which runs from February 1st through March 15th in galleries and venues throughout Santa Cruz.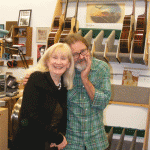 This interview purposely ping-pongs between talking with Jayme about the upcoming show while we learn Richard's history of guitar making. Jayme talks about the realization of just how large our local lutherie community is and how that inspired her to assemble this six-week celebration. Richard discusses SCGC's approach to guitar making with their emphasis on the "100% responsible harvesting" of woods. (Richard has been making guitars for 40 years. SCGC was officially founded in the mid '70s.)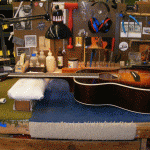 Turns out that Santa Cruz County is home to an unusual number of luthiers – almost twenty featured in this show alone. These local artisans design and create high-end instruments in small shops throughout the county. SCGC is probably the largest, with its fifteen employees and output of approximately 500 guitars each year. (Of those, 75% of the instruments are custom builds.) There are many smaller builders as well, many of whom will be showcased in this six-week festival. Jayme herself plays a home-grown guitar made by Tony Graziano.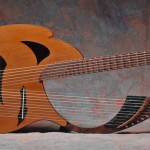 The festival is a multi-event celebration, featuring gallery shows of the guitars, along with performances by artists including Alex de Grassi and William Coulter playing on locally built instruments. It all kicks off on Saturday, February 1st at the R. Blitzer Gallery with a meet-and-greet featuring many of the showcased luthiers, live music, and a viewing of these fine instruments. First Friday at the Museum of Art and History will showcase these works on Friday February 7th with displays, performances, and activities for the kids.
For complete information on the festival, see the Calendar of Events listed on the Santa Cruz County Art of Guitar web site. Be sure to "like" the event on their FaceBook page, as well.
This episode includes clips of William Coulter playing "Bill Malley's Barndance" and "Rain Into Snow" from his CD "The Road Home". You can hear William play on Saturday, March 1st at the R. Blitzer Gallery. Click here for ticket info.
Coming up next on "Songs and Stories": We'll continue our field trip interviews with visits to The Woodshed in Los Gatos CA and Treasures Roadhouse in Corralitos CA. Click the subscribe button below to get the episodes as soon as they're available.