Podcast: Play in new window | Download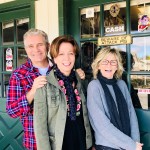 I say this over and over, but the best part of writing, playing, or presenting music is the people you meet along the way. Case in point: The Sweet Potatoes, a fine trio (sometimes quartet) of folks from southern California. We met at the final year of the American River Music Festival, which ran for a decade under the worthy eye of Festival Director Matt Semonson. I had the privilege of hosting the Friday showcase for the final eight years of that festival, and The Sweet Potatoes were one of the "winners" in the last year of the fest in 2016.
The band is Laura Hall (guitar, accordion, vocals), her husband Rick (bass, harmony, harmonica), Kelley Mcleod (vocals and guitar), and quite often Steve Bogard (banjo, dobro, harmonica). Laura and Kelly share songwriting duties and trade off on lead vocals, and Rick fills in on harmony. An interesting aside is that these folks have pretty unique day jobs and backgrounds: Laura is known as the keyboard player on TV's "Whose Line Is It Anyway?", Rick is an actor, and Kelly had an earlier life as a hard rock singer – her band "Private Life" was produced by Eddie Van Halen, whom they toured with. The Sweet Potatoes, however, is their passion project, and it shows.
After the 2016 ARMF festival, we kept in touch. Laura ended up playing a gorgeous accordion
track for the song "Somewhere I Went Right," on my new record, "Hey Karma". And we were determined to get them up our way for a house concert, which we did last month. (Kelly admitted the crowd was smaller than when she opened for Van Halen at Madison Square Garden, but loved how our 30 close pals were definitely a loving and attentive group.)
We did the podcast chat the following morning. This episode features ""Without You" and the Fleetwood Mac cover "Second Hand News" off their new release, "Headin' Home," as well as a live performance of "Home," also from the new record. Great songs, great harmonies, and highly recommended.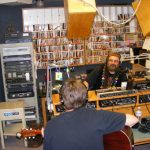 In Memoriam: This episode is dedicated to the late, wonderful Wesley Robertson, whom we unexpected lost last weekend. Wesley was a champion supporter of independent music, broadcasting his weekly "Rockin' and Stompin'" at KVMR in Nevada City, along with live remotes from festivals throughout northern California. But he was so more than that. Wesley was a connector, an incredible human whose passion for music spilled over into people in general, creating a very special (and huge) tribe of incredible people along the way. It's hard to imagine a world without him.