Podcast: Play in new window | Download
Songs and Stories #172: "Michael Gaither & Steve Kritzer on KPIG"
Click here to listen to the KPIG interview with Michael Gaither & Steve Kritzer (time = 37:27)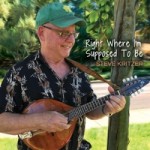 I thought I'd close 2017 with one last podcast featuring *me* interviewed for a change of pace, along with my musical compadre Steve Kritzer. Steve and I first started playing together in 2009, when we shared a gig at The Ugly Mug in Soquel. We immediately realized that we had good chemistry, a lot of musical common ground, and that folks at the show were appearing to have as much fun as we did…so, we KEPT playing together.
One of our last shows this year was a split bill at, of all places, The Ugly Mug. Steve and I did a "dual CD-release party" to promote my newest, "Hey Karma" and Steve's new "Right Where I'm Supposed to Be". There's lot of nice synergy between the two projects. Steve co-wrote (and plays on) two tracks on mine – He and I cowrote the title track to his. To promote our show at The Ugly Mug, we both did sets on KPIG Radio's live music show, "Please Stand By" the Sunday before. That's what you'll hear in this mostly-all-music episode I'm closing the year out with.
I played my new Tom Petty tribute, "Always a Friend of Mine", then Steve backed me on mandolin for "Hey Karma" and "On Saturday and Sunday" off the new record. When Steve was up, he did "Right Where I'm Supposed to Be" and "I Wish You Well, " with me on harmonica and banjo. As always, lots of fun and always a blessing to play with this guy.
Have comments on this episode?
I'd love to hear from you. Call and leave a message at (831) 288-2226, and I'll play your comments on-air during the next show.