Podcast: Play in new window | Download
Click here to listen to the interview with Russell Brutsche (time = 54:59)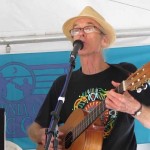 Ever the humble artist, Santa Cruz's Russell Brutsche refers to himself as "an eternal beginner". Very humble. A double threat painter and award-winning songwriter, Russell's environmental and political stories work themselves into both songs and prints. Always with a gentle touch and often with a bit of humor. Which medium a particular story or angle finds itself "depends," as you'll learn in this podcast interview.
Russell dropped by right after attending "Wintersongs West," one of four songwriting camps that take place on the east and west coast. ("Summersongs" is the east coast counterpart.) The gatherings were created by songwriter/teacher Penny Nichols. This past event included instruction from Susan Reeves (who's also the Co-Director of the west coast camps), Ed Tree, and Severin Brown. We talked about the camp, focused on a bit of advice Russell received from Teresa Tudury about how "everything that can go wrong onstage will at some point," then learned how that advice came into play at Russell's very first performance AFTER the camp.
Russell's latest record, "Bucket of Gold," features local favorites Steve Uccello (bass and cello), Dayan Kai (clarinet), and Bruce Wandmeyer (pedal steel) providing the instrumentation on eleven new songs that mix songs, stories, and spoken word interludes about painting the Golden Gate Bridge, forgoing a massive stadium build to instead farm the land ("Sam's Cornfield," which you'll hear in the intro to the actual interview), to a few tunes that poke fun at singer/songwriter culture itself. The interview concludes with a live take on "Center of the Universe," a song about humility from the record reminding all of us that we're "eternal beginners".
Want to purchase "Bucket of Gold"?
CDs and downloads are available here at cdbaby.com.
Want to learn more about the Wintersongs and Summersongs camps?
Details on both (Summersongs West takes place June 1-4) are available at summersongs.com.
Have comments on this episode?
I'd love to hear from you. Call and leave a message at (831) 288-2226, and I'll play your comments on-air during the next show.