Podcast: Play in new window | Download
Click here to listen to the interview with Scott Cooper (time = 58:22)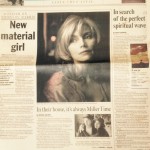 I continually find myself amazed and amused at what a small world this music tribe is. Scott Cooper and I go back aways. I was recently cleaning off my desk, sifting through old memorabilia and clippings, and found THIS Santa Cruz Sentinel page with articles by both Scott and I. He interviewed the late Dan Hicks. I did a piece on Buddy and Julie Miller. Again, small world.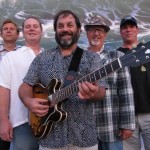 Cut to a decade (or two later). Scott and his fine band The Barrelmakers played one of the last shows we hosted at our concert series. And then we finally got together to talk shop here at the home office around the kitchen table. A veteran of the bay area music scene, and very much a local favorite here in Santa Cruz, we got together to talk about his latest CD, "Batik in Blue". First, of course, we reminisced about how we both ended up at the Sentinel, how a little farther back he started as a DJ at KLRS in Santa Cruz (before it became KSCO) after the 1989 earthquake – I did warn you we go back a little in history, yes? – and how he, initially a drummer, had to step away from the kit to get his songs properly heard.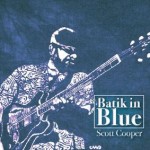 Scott's spent a LOT of time as a utility side player and and as a rhythm guitarist in the powerhouse Grateful Dead tribute band, the China Cats. Doing his own records allows him to showcase his songwriting, wrapping it in a jam band-ish package. You'll get a good taste of that in this episode, which features "The Ghosts of La Honda" and "You Never Give Me the Blues" from the new record. We'll also discuss our mutual adoration for the late, great genius Warren Zevon. Scott closes this episode with a live version of a new song, "Warren Zevon,", a tribute to the man himself.
Have comments on this episode?
I'd love to hear from you. Call and leave a message at (831) 288-2226, and I'll play your comments on-air during the next show.