Podcast: Play in new window | Download
Click here to listen to the interview with Mark and Cindy Lemaire (time = 1:04:00)
Fingerpicking. "Slap and tap" harmonics. Hand percussion. Mark Lemaire's completely unique approach to the guitar is a joy to watch. The guitar players in the room wonder how he gets so much sound and control out of standard tuning. The audience does a double take to make sure "yes, there really is only one guitar onstage". Add Cindy Lemaire's intricate harmony vocals to the mix, and the duo sounds like much more than the sum of their parts.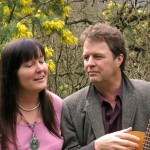 Mark and Cindy recently stopped by the house after a gig in Monterey CA. Mark described how his unique style developed. (Mild spoiler #1: He's a sound engineer by day and has recorded everything from punk bands to symphony orchestras. He has a LOT of experience with sound.) Mark released his first CD, the solo effort "Rubato", in 1995. It received lots of accolades  and amazing comments from people who've used the record as a soundtrack to cancer recovery, weddings, and even massage sessions.
With Cindy, their latest release is 2012's "Home Isn't Home". You'll hear them play "Zanzibar Sands" from that record live in this episode. You'll also hear previews of the title track and the tune "Seaglass" before the actual interview.
We kicked off the chat with an interesting tangent: What's it like for an artist to see things from the presenter's point of view? I've been hosting a concert series for six years (the last show
in this series
will feature Gurf Morlix) on April 17th. Mark and Cindy hosted a house concert series at Cindy's place in Modesto CA for five years. It gave them the opportunity to experience how other artists approach presenters and to learn what a concert promoter goes through to put on a show. (Mild spoiler #2: It's a bit of work.)
Want to learn more about Mark's guitar playing? Need tips on producing?
Mark is has two upcoming workshops at the Freight and Salvage in Berkeley. On Monday, March 28th, you can learn more about his guitar playing in "Secrets of Getting the 'Open Tuning Sound' in Standard Tuning". On Monday, April 25th, find out what a producer exactly does – and why you might already be one (if only by default) – at "Working With or Being a Producer: Tips, Tricks, and When to Lie".
Have comments on this episode?
I'd love to hear from you. Call and leave a message at (831) 288-2226, and I'll play your comments on-air during the next show.