Podcast: Play in new window | Download
Click here to listen to the Amy Rigby interview (time = 36:40)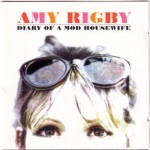 Since her late 90s debut record, "Diary of a Mod Housewife", New York-based Amy Rigby has built a huge catalog of songs that'll make you laugh, cry, and then laugh again. The New York Times says "she is up there with the likes of Paul Simon and Randy Newman", and 30 minutes or so from now – click the link above to listen – you'll likely agree.
2016 kicks off by talking with one of my favorite songwriters. And…bonus (at least for me)…I had the good fortune to split a bill with her last fall for an afternoon show at Don Quixote's in Felton. We both did full sets. And ever the gracious headliner, Amy sat and listened to my entire set with lots of kind words afterwards. When things settled down, we headed outside. Amidst the birds, traffic, and soundcheck wafting in from Tony Furtado's evening set at Don Q's, we talked shop.
Amy spent the past few years living in France with her husband, Eric Goulden. (They're known onstage as Wreckless Eric and Amy Rigby). They toured, a lot, mainly doing covers. They loved the life, but Amy the Expatriot was finally pulled back to the states. We'll learn what drew her back home. We'll chat about the give and take of songwriters doing covers, and we'll discuss the similarities between bluegrass and punk – There are more than you might think.
Have comments on this episode? I'd love to hear from you. Call and leave a message at (831) 288-2226, and I'll play your comments on-air during the next show.