Podcast: Play in new window | Download
Click here to listen to the interview with Kenny Butterill. (time = 43:40)
Diving his time between homes in Toronto, Canada and the Santa Cruz (California, US) mountains, songwriter Kenny Butterill finds himself surrounded by lots of great tunes.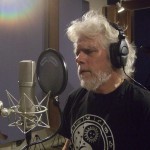 He's currently finishing up a European tour – in Scotland as we speak – in support of his third CD, "Troubadour Tales". The record, ten years in the making, includes appearances from Americana favorites like Ray Bonneville, Zoe Muth, Audrey Auld, Rob Ikes, John Reishman. Donovan (yes, Donovan), also makes a cameo appearance.
In this new podcast recording at his Santa Cruz home, Kenny talked about the long path that took him from being "Just a Songwriter" (also the name of his first album), to a touring performer. He stumbled across lots of great stories along the way, many of which you'll hear in this podcast.