Podcast: Play in new window | Download
Click here to listen to the interview with singer/songwriter Sean Hayes (time = 34:16)
I recently had a virtual sit-down (via Skype) with singer/songwriter Sean Hayes. We talked about his eclectic approach to music, how he's happily maintained indie status throughout his career, and how he'll take the intimate sound from his recent work into a full-scale band show at this year's American River Music Festival.
Sean Hayes has influences from the best of all worlds. He was born in New York City, then raised in North Carolina – which he said probably "rounded the northern edges off". It was in NC that he discovered banjo, fiddle, old-time, and bluegrass. Years later, on a whim, he came to San Francisco with his guitar and immersed himself in the folk scene. He's been a bay area resident for over twenty years.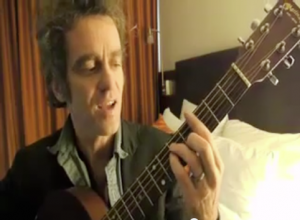 Sean Hayes teaches how to play "Powerful Stuff"
He's never pursued a label and has done fine with seven independent releases. After playing a few years, Sean said you quickly learn that business is a part of the music, that at some point, you need to "prove to people that you're going to show up". Sean says doing it yourself means that you can't rely or wait on someone else to finish up the details, but there's a satisfaction in that, too.
Musically, he cites soul, folk, R&B, reggae, and gospel as influences. On Sean's latest release, "Before We Turn to Dust", he adds fatherhood to that list. You can hear the new, proud father in him on catchy tunes like "Miss Her When I'm Gone" and lyrics like "You may spend all your money before you turn to dust / But you'll never spend all your love" in the title track.
Sean Hayes plays the main stage of the American River Music Festival on Saturday, September 14th. Tickets, camping info, and more details are at americanrivermusic.org. (If you're near Santa Cruz, you can see Sean again at Don Quixote's Music Hall in Felton on Saturday, October 19th.)