Podcast: Play in new window | Download
Click here to listen to Fred Reiss talk about "Today Cancer – Tomorrow the World" (time = 49:26)
Here's a rare, non-music interview for the podcast, and it's something special: I first saw Fred Reiss when he was performing standup comedy at Paul Masson Winery back in the '80s. I *officially* met him when our band was playing (and hosting) music at Roudon-Smith Winery many years later. Annette, the winery owner, said "Fred Reiss just started working us. Let him know if you need anything". I said, "THE Fred Reiss?" Yeah, he makes an impression.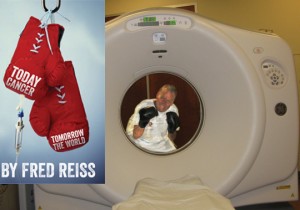 Fred is truly one of those "has done a bit of everything" kind of guys. Originally from New Jersey, he headed out to California back in the 80s and learned to surf, worked in radio, became a winemaker, and performed standup comedy. All along the way he was a writer. He's since self-published several novels, a book of standup comedy insults ("Insult and Live"), and his newest work, the nonfiction "Today Cancer – Tomorrow the World".
The book describes how Fred TWICE fought testicular cancer. Originally a series of daily blogs published at fredforyourhead.com, Fred chronicled his latest treatment in a first-person, as-it's-happening manner, praising the nurses and friends who helped him through it, and honestly documenting the pratfalls and challenges of dealing with the medical system.
After his treatment – he's six-months cancer-free as of this interview – Fred developed the blogs into "Today Cancer – Tomorrow the World". The book is definitely not a maudlin recap of his treatment, nor is it a fluffy self-help tome. It's a detailed account of what Fred when through before, during, and after treatment…and all along the way it's filled with his very direct and very funny sense of humor.
Appropriately enough, Fred and I met and chatted in the Capitola Book Cafe, where I once purchased an autographed copy of "Insult and Live". "Today Cancer – Tomorrow the World" is available as a paperback AND as a low-priced Kindle download. (Fred intentionally made the Kindle version easy to purchase, so that anyone receiving treatment can easily have a copy with them on their Kindle or mobile device.)