Podcast: Play in new window | Download
Click here to listen to episode #121 (time = 48:49)
I have the most fun with these podcasts when I get a chance do a follow-up chat with people, especially when they're as fun to hang out with as Laurie Jennings and Dana Keller. They first dropped by "Songs and Stories" way back in episode #99. Hailing from Florida, it was their first trip out to California – a journey they made via motorhome and fueled by many, many gigs on the drive out and back.
This year was their third visit. I caught up with them again to chat about their new release, "Mirror with a Memory". Like many of these interviews, we had fun with seques, discussing life as an indie artist, the fun of promoting your own music, and theorizing where this industry thing might find itself in a few years.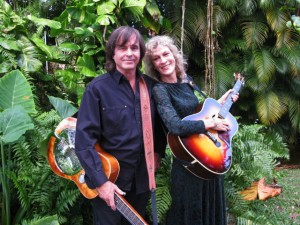 This episode includes clips of the title track, "King of Diamonds,", and "Goodbye California" off their new CD. If you like what you hear – and you no doubt will – you can order the CD from jenningsandkeller.com.