Podcast: Play in new window | Download
Click here to listen to episode #117 (time = 34:52, size = 50.3 mb)
Songwriter Rita Hosking was raised in a small, northern California town – "Redding was considered the big city" – and calls Davis home these days. Her particular blend of foothills and folk have won her major awards. Rita was a finalist in the 2009 Telluride Music Festival Troubadour Contest, and she won the 2008 Dave Carter Memorial Songwriting Contest at the Sisters Folk Festival.
"Burn" is her latest record – her fourth studio effort – and it's also brought her some well-earned attention. It won Best Country Album Vox Pop in the 2010 Independent Music Awards. It placed in the top 10 "Young Female Artist releases for 2011" by No Depression magazine. And it was listed as a "Hidden Gem of 2011" by the UK's Observer.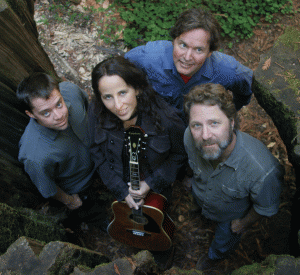 Rita Hosking and her band Cousin Jack
This summer Rita's hitting the major California festivals. Last weekend she appear (twice) at the Kate Wolf Memorial Festival. She'll be at Fall Strawberry over Labor Day Weekend. And on September 15th, she takes to the main stage of the American River Music Festival. (Other performers at this year's American River Music Festival include Tom Russell, Ray Bonneville with Nina Gerber, and Roy Rogers.)
Rita and I recently talked at a very cool little park in Santa Cruz when she was down this way doing a couple of house concerts. We discussed what led her to producer Rich Brotherton – he's produced her last two records – and despite her busy festival season, and how she's carving out time to both enjoy summer with her kids and to finish songs for her next record.
Note: I simply cannot drop "Redding" into a post without mentioning the late, great – and man do we miss him – Chuck McCabe. Here's a link to his ode to that northern town, "I'd Rather Be in Redding".