Podcast: Play in new window | Download
Click here to listen to episode #116 (time = 33:51, size = 46.6 mb)
Been missing this podcast? I have, but I got caught up the new record – it's finished…yay! which took up all of my remaining "free time" (heavy on the quotes) for the past several months. But the CD is done, it's here on the web site, and it's time to get back into the podcast routine, at least as regularly as I can muster.
I should have punch cards like at the yogurt shop for regular "Songs and Stories" guests. With every ten visits you get…er…uhm…well, probably another visit to "Songs and Stories". This episode is a visit with Chris Kee, who's no stranger to this show. He sat around my kitchen table with Travis Jones (of Houston Jones) way back in episodes #31 and #32. And I caught up with Chris and *all* of Houston Jones a year or so later in episode #82.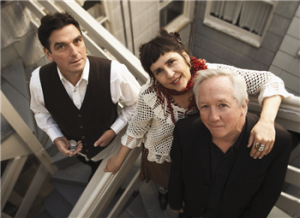 Chris' latest project is Springhouse, a trio made up of he, his wife Jane Selkye, and their pal David Phillips (on dobro and pedal steel). While still a very acoustic effort like Houston Jones, Springhouse is a sparse sound. There's a bit more room around the instruments (Chris plays stand-up bass and cello) that perfectly back Jane's singing, and David's playing.
In this episode, you'll hear samples of "Three Crow Town" and "In Love Before the Last Call" off the Springhouse debut, "Colville". We'll chat about the recording itself, which was done live onto analog tape at Cookie Marenco's OTR studios (Cookie was a podcast guest back in episodes #83 and #84). And we'll learn how purchasing a special notebook and a cool astronaut pen keeps Chris' songwriting juices flowing.