Podcast: Play in new window | Download
Click to hear episode #115 (time = 36:01, size = 49.6 mb)
We'll take a slight detour from the usual (and very talented) run of singer/songwriters usually featured on the "Songs and Stories" podcast. This time out, we talk to Asyst, my very favorite local metal band. (Okay, so they're the *only* local metal band I really know…but I digress.) Asyst is Mike Sylva (drums), Dipendra Bagchee (guitars/vocals), Tim Sankar (guitar), and Vic Rodriguez (bass/vocals). Their new album is "Setting Sun", and I recently chatted with them during a rehearsal at Silva's Custom Classics (drummer Mike's garage where he restores Chevy Muscle Cars).

We discussed how they recorded this new project (pieces of which were done both as a group and tossed back and forth over the interwebs), what it's like to be in a band that's been keeping it together for over ten years, and just how diverse a metal band's influence can be. (See this Map of Metal that we discussed during the interview.)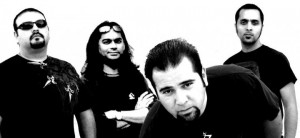 Asyst (click for band bios)
Besides combining great songs, fine musicianship, and some very cool harmonies, Asyst gets the "friends and family" bump here: I met Dipendra several years ago (seven? eight?) when he walked into the open mic I host at the Wooden Nickel Bar and Grill. His brother Ahin ("Aaron") started coming soon afterwards. Aaron now plays with me and has been on my last two CDs. We then met Breanna Eddy, who was Dipendra's girlfriend, then fiance, and is now his wife. For a nice sentimental rewind, check out "Songs and Stories" #4, and you'll hear Dipendra proposing to Breanna at The Wooden Nickel…along with our cheers in the background.
Want to hear "Setting Sun" live? You can, and it's free. Asyst is having their CD release party this Saturday, March 10th, at the Caravan Lounge, 98 South Almaden Ave in San Jose. Storming the Skies, which features Dipendra and Ahin's brother Kiren, opens the show at 9:00 pm. I also recommend you check out Kiren's artwork. Kiren did the cover art for "Setting Sun" as well as the release party poster.
Editorial note: As I rattled off names during this podcast, I mentioned Breanna but neglected to mention what a fine singer she is. As noted earlier, she's on my "Dogspeed" CD and will be on my new one "Starlite Drive-In Saturday Night". You can also hear her on her blog at Breanna Dawn.