Click to hear episode #101 (time = 51:05, size = 23.5 mb)
We kick off the first episode of the year with Antsy McClean, lead singer/songwriter of The Trailer Park Troubadours and longtime friend of the "Songs and Stories" podcast. Antsy and I first chatted way back in episodes #51 and #52, when he'd just finished his "New Gold Old Days" record. It was a great couple of talks, but you might recall that audio conditions (echo-y back rooms in the Rio Theater and a have-no-mercy wind outside KPIG radio) really did a number on chats we recorded. We've been talking ever since about getting together for another one of these. And we finally did.
This one's a real "no agenda" kind of kitchen-table talk. Antsy and I just wanted to shoot the breeze, and I really wanted to talk to Antsy about his DIY (do-it-yourself) approach to his music, web site, and everything else he can get his hands on. We talk a little about songwriting, a bit about the economics of touring and playing with regional bands, and how his latest album, "Heroes Last Forever", which is available on CD and a limited-edition vinyl release, was recorded on one of his field trips overnight at the legendary Sun Records in Memphis, Tennessee.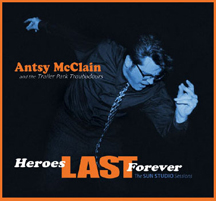 Note: Antsy and I bounce between a *lot* of different topics in this one. As promised (and in no particular order), here are links to "The Bathroom Songwriter", Antsy's own podcasts, and some info about his upcoming field trips (which include the second annual Woodflock weekend in Red Bluff, California.)