A billion years ago, back in the stone ages, we used to read these things called "magazines". They were printed on paper. You didn't need a wifi hotspot to read 'em. And you never had to make sure they had a full charge so you could finish an article.
Maverick Country is published in the UK. It's online, but it's also still very much a hardcopy magazine. They cover the gamut of all things country and Americana, from the big, big names, down to little indie folk like yours truly. Maverick Country generously reviewed my first CD, "Spotted Mule and Other Tales" back in 2006. They also had some very nice things to say about "Dogspeed" my second record.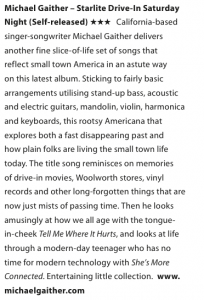 Click for large-print review
The March issue of Maverick Country includes a review of the new release, "Starlite Drive-In Saturday Night". They've called it "another fine slice-of-life set of songs that reflect small-town America in an astute way". Can't ask for a nicer summation than that.